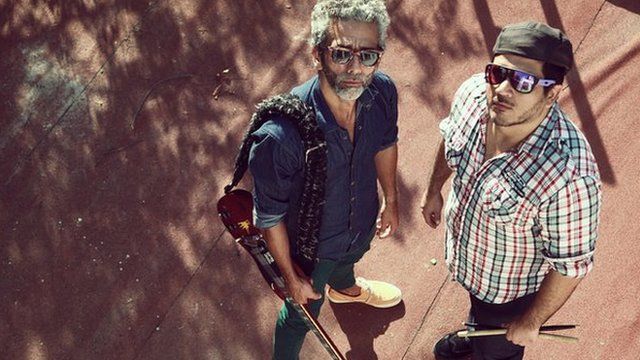 Video
LatAm Beats: Colombian rock from Sicotropico
Listening to Sicotropico's powerful sound, you would be forgiven for thinking it was made by a full scale band, not just two men.
Lead singer and guitarist Omar Sanchez and drummer Marlon Maranon, both from Barranquilla, Colombia, having been paying together since they were kids. "Our secret is the incredible connection we have. I know what Marlon thinks, I know what he likes, and he also knows everything about me too" says Omar.
A musical sheep in wolf's clothing, Sicotropico's energetic rock is surprising in other ways too. The song they perform for BBC, Enamorao, is not a challenge to authority or any other kind of rebellion - it's a celebration of love and friendship.
In 2005, Sicoptropico won the National Prize for Best Song Composition and they perform regularly at Colombia's Rock al Parque (Rock at the Park Music Festival).
The group is one of the most down-to-earth and innovative to have come out of Colombia's alternative musical scene in recent years.
Go to next video: LatAm Beats: Ocean's Acoustic