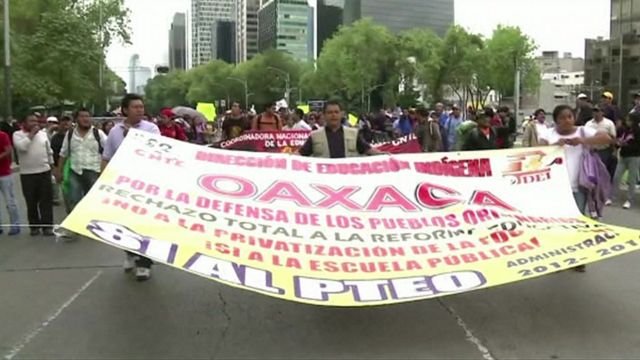 Video
Mexico teachers protest in capital over education reforms
Thousands of teachers have rallied in Mexico City to protest against new education reforms passed by the Mexican Congress.
The reforms would mean teachers having to take mandatory tests to keep their jobs or be offered promotions.
This has angered unions who have, until now, maintained complete control of school staffing. One union leader called President Nieto's reforms an "authoritarian policy".
However, President Enrique Peña Nieto said Mexico's future depended on the reform, and argued it would improve the quality of education.
Tens of thousands of union supporters shut down the capital's main boulevard and protested outside key government buildings as Mike Embley reports.
Go to next video: Hispanic achievement gap 'is critical'