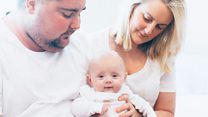 Video
Jersey widow tells story of her husband's death from a brain tumour
A woman has shared the story of her husband's death from a brain tumour to raise awareness of the cancer.
In June 2015, Emma Cotillard, from Jersey, was six months pregnant with her daughter Mia when she and her husband Justin had to cut short their honeymoon in France so he could get urgent medical help.
An MRI scan revealed he was suffering with the deadliest form of brain tumour, known as a "gliboblastoma".
Emma wanted to raise awareness of the cancer "so that more funding" could go into researching the disease.
The Brain Tumour Charity said: "Brain tumours kill more adults under 40 in the UK than any other form of cancer, but symptoms can be easily confused with those caused by more common conditions."