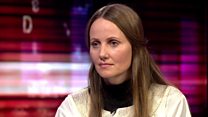 Video
Imam Sherin Khankan wants 'new narratives' on Islam
Sherin Khankan became Scandinavia's first female imam when she opened the Mariam mosque in Copenhagen.
The mosque holds women only Friday prayers but also mixed gender meetings and worship at other times.
She told Hardtalk's Stephen Sackur: "I am here to create an alternative. I am here to serve a new generation of Muslims in Denmark and abroad who have some acute needs when it comes to Islam and how to practise Islam in the 21st Century."
Watch the full interview on Tuesday 9 October 2018 on BBC World News and Wednesday 10 October 2018 or watch again on BBC iPlayer (UK only)
Go to next video: The female imam fighting extremism