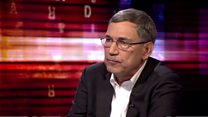 Video
Orhan Pamuk: Fear and oppression makes me work harder
The Turkish author Orhan Pamuk talks about how the current political climate in Turkey following on from last year's attempted coup has affected his work.
Since the coup, more than 50,000 people have been arrested, around 150 media outlets have been shut down and journalism organisations say more than 150 journalists have been jailed - a figure the Turkish government denies.
Pamuk's latest novel The Red Haired Woman has just been translated into English.
You can see the Hardtalk interview in full on Thursday 21 and Friday 22 September on BBC World News and the BBC News Channel and after on BBCiPlayer (UK only).