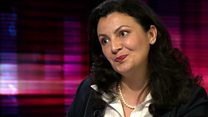 Video
Ukraine EU membership 'will become a truth'
Ukraine will one day become a member of the European Union, the country's vice prime-minister for European Integration has said.
Ivanna Klympush-Tsintsadze told BBC's Hardtalk that reforms in Ukraine are bringing the country closer to membership.
"Everyone will only benefit from Ukraine joining the EU," she said.
Last November the EU granted visa-free travel to the Schengen Area for Ukrainian citizens.
The question of whether to look eastwards to Russia or westwards to Europe has been a huge political matter in Ukraine in recent years.
Watch the full interview on BBC World News and the BBC News Channel on Thursday 6 July 2017 or watch again on BBC iPlayer (UK only)