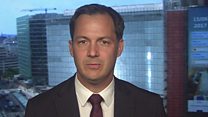 Video
Belgium Deputy PM: Brussels not looking to punish UK
The idea of hard Brexit seems to have faded after the British general election but the clock is ticking and the UK and the EU need to start negotiating, says Alexander de Croo, the deputy prime minister of Belgium.
He told Stephen Sackur: "No one in Brussels is waiting to punish the UK government and the UK citizens.
"The UK citizens have punished themselves already enough with political instability, with a disunited kingdom and with a falling sterling."
He said the UK and EU needed first to discuss the principles of the divorce before talking of remarriage through a kind of working relationship.
You can see the interview in full on Wednesday 14 June on BBC World News and the BBC News Channel and after on BBC iPlayer (UK only).
Go to next video: Brexit voters could be 'worse off'