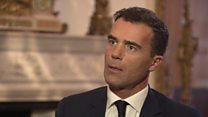 Video
Italy's Gozi: EU rules 'very favourable' to Germany
Italy's Europe Minster Sandro Gozi says the eurozone budget rules "have worked well for one big country at the centre of Europe".
He told Hardtalk: "They have been very favourable to Germany. Now they are changing. We must push for further change because we need to have a more balanced approach."
The European Commission forecasts Italian growth at 0.9% this year, the slowest in the eurozone and real income per head is lower than when Italy joined the euro in 1999.
Italy is also facing a banking crisis, with around a one-fifth of Italian banks' loans - nearly $400 billion -considered non-performing, according to a 2015 International Monetary Fund report. The figure accounts for 40% of all troubled loans in the eurozone.
Hardtalk can be seen on BBC World News and the BBC News Channel and BBC iPlayer (UK only).
Go to next video: EU-Turkey row 'contributing to' far-right