Media player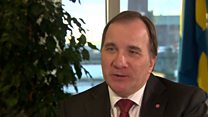 Media playback is unsupported on your device
Video
Sweden PM: UK 'can't pick and choose' over Brexit
This week Theresa May heads to Brussels for a summit with EU leaders.
Brexit is not on the official summit agenda – though it will be at a leaders' dinner on Thursday, to which the PM is not invited. So who can fight the UK's corner when it's not in the room?
Sweden is traditionally one of Britain's closest European allies but Prime Minister Stefan Lofven warned the UK must manage its expectations.
He told our Europe editor Katya Adler that no EU country could help Britain stay part of the single market while stopping the right of EU citizens to move to Britain.