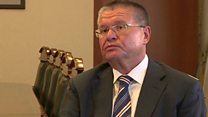 Video
Ulyukayev: Corruption is a challenge for economic growth
Russia's Economy Minister Alexei Ulyukayev has been accused of taking a bribe to endorse a state takeover.
In a 2015 interview, he told BBC HARDtalk's Stephen Sackur that corruption was a challenge for economic growth, for social stability and the political development of the country, but the Russian economy was also experiencing increased levels of transparency.
Russia's main anti-corruption body, the Investigative Committee (SK), said Mr Ulyukayev received a payment of $2m (£1.6m).
Mr Ulyukayev is the highest-ranking Russian official held since the 1991 coup attempt in what was then the USSR.
The SK said he had "threatened" to create obstacles for Rosneft's operations when it took a 50% stake in another state oil company, Bashneft.
The minister pleaded not guilty to the bribe charge and saw his arrest as "an act of provocation against a state official", his lawyer said.