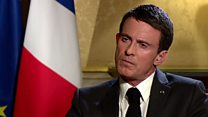 Video
France's Valls 'permanently marked' by Paris attacks
As France marks the first anniversary of the Paris attacks, Prime Minister Manuel Valls has said he is "permanently marked" by the experience.
In an exclusive interview with HARDtalk, he told Stephen Sackur, that on his desk he has the photo of a friend's son who was killed in the attacks: "I have his photo because I want to live with it and never forget these attacks."
He said that there was no sense of guilt "but rather a sense of being at war," and that "we had to be strong".
"It will take time but we will win this war," he added.
You can see the interview in full on Sunday 13 November and Monday 14 November on BBC World News and the BBC News Channel and after on BBCiPlayer.