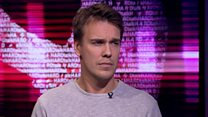 Video
Russian author on the inner circle of Vladimir Putin
Mikhail Zygar was the editor of the independent Russian television channel, Dozhd, between 2010 and 2015.
The channel often asked uncomfortable questions about the Russian government. Mr Zygar also gained access to some of the most powerful people around President Putin.
Their thoughts and views are contained in a book which became a best seller in Russia. HARDtalk's Stephen Sackur asks Mikhail Zygar just what he means when he writes that Vladimir Putin as we imagine him doesn't exist.
Watch the interview in full on BBC World News and the BBC News Channel on Thursday 3 November 2016. Watch again after broadcast on BBC iPlayer (UK only)