Media player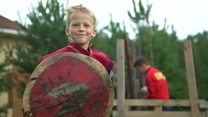 Media playback is unsupported on your device
Video
Orphan village helps Russia rethink fostering
For more than a decade, a small orphan village south of Moscow has been experimenting with what the founders think may be a novel solution to support both foster children and the families who take them in.
Do you have a story you've always wanted filmed about Russia? Get involved with Pop Up now through their website (http://www.bbc.co.uk/news/live/magazine-32969581) and send your story ideas to them via Twitter using #bbcpopup or by email at bbcpopup@bbc.co.uk.
Produced by BBC's Matt Danzico, Emma Wells and Maxim Lomakin
Go to next video: What stories do Russians want to see?