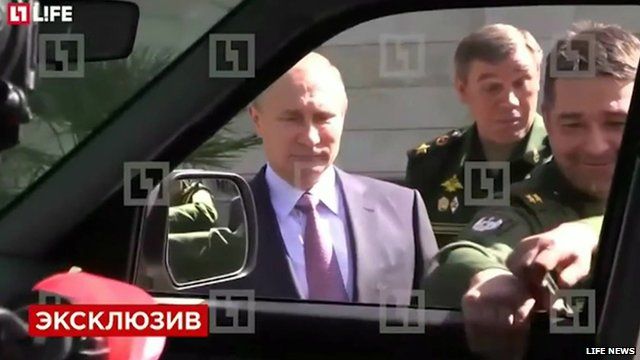 Video
Door handle breaks as Putin inspects Russian military jeep
A Russian general tried to help President Vladimir Putin open a military vehicle's front passenger door - only for the handle to come off in his hand.
The embarrassing moment was captured on video and posted on the pro-Putin Russian news site, Life News.
"Well done," Mr Putin told Gen Alexander Shevchenko, who was showing off a UAZ-Patriot jeep at the president's luxury residence in Sochi, on the Black Sea.
Mr Putin appeared amused as the general threw the handle through the passenger window and tried to open the door from the inside. He gave up, but managed to open a rear door to let Mr Putin look inside.
Russian media say the vehicle has an automatic locking mechanism, so the front passenger door will not open unless the engine is running.
Go to next video: Vladimir Putin depicted as Hercules