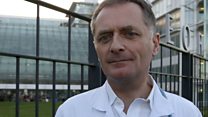 Video
Paris attacks: Doctor on 'feeling of war' in A&E
An emergency doctor who helped the injured in the Paris attacks on Friday said there was "a feeling of war" as victims arrived at the hospital.
Dr Phillipe Juvin, who is head of emergency services at The Hôpital Européen Georges-Pompidou, said the hospital received about 50 patients, with 15 to 20 so severely injured they went to intensive care.
Dr Juvin told 5 live Drive's Anna Foster the patients' shock was such that they were mostly silent. "Even those who were awake were unable to explain their suffering and pain," he said.
President Francois Hollande said France is committed to "destroying" the so-called Islamic State group, which has claimed responsibility for Friday's deadly attacks that left 129 people dead.
For more of BBC Radio 5 live's coverage of the Paris Attacks, visit the In Short section of the 5 live website.
Go to next video: 'We heard automatic gunshots'