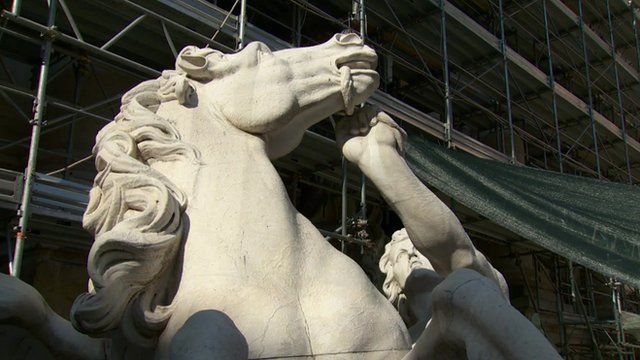 Video
Inside Rome's Trevi Fountain, closed for refurbishment
The Trevi Fountain is one of the great sites of Rome - all day, every day, hordes of tourists stop and stare at this Baroque masterpiece.
As well as being a grand work of art it is a sort of oasis in the heart of the city.
The fountain funnels the waters of a 2,000-year-old Roman aqueduct down through a tangle of colossal statues.
But these days the famous fountain's many visitors are discovering that - for now at least - the waters have stopped to allow important renovation work to take place.
The BBC's Rome correspondent Alan Johnston has reached the end of his three-year posting in the Italian capital.
Before leaving, he was given access to the Trevi Fountain to take a close-up look at the ornate work.
Go to next video: Bikes versus cars at Rome's Colosseum