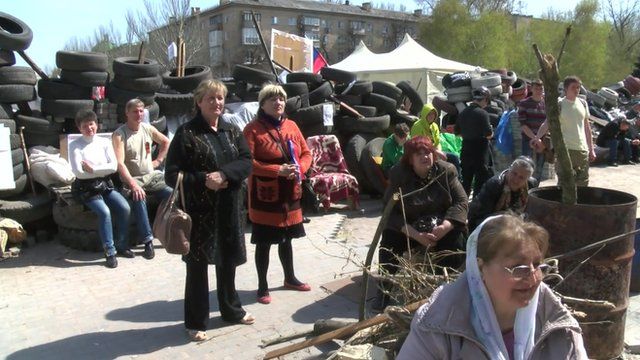 Video
Ukraine crisis: The people who want to be part of Russia
Russia, Ukraine, the US and the European Union have said that all sides have agreed to steps to "de-escalate" the crisis in eastern Ukraine.
Following talks in Geneva their foreign ministers said there was agreement that all illegal military formations in Ukraine must be dissolved, and that everyone occupying buildings must be disarmed and leave them.
Almost a dozen administrative buildings across eastern Ukraine have been occupied by pro-Russian protesters and militiamen, many of whom say they want to follow in the footsteps of Crimea and call on a referendum for greater autonomy or independence from Ukraine.
The BBC's Natalia Antelava visited one of these camp sites, the self-declared people's Republic of Donetsk.
Go to next video: Deal struck to calm Ukraine crisis