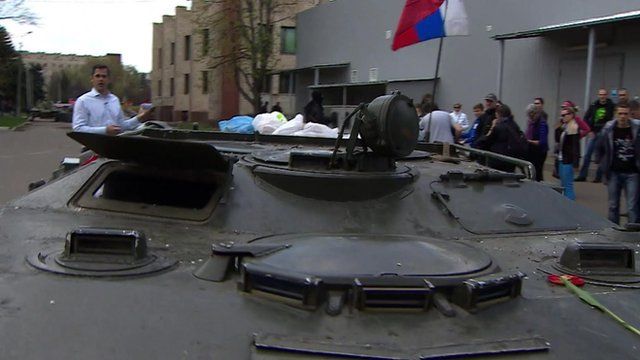 Video
Ukraine crisis: Armoured vehicle 'rebranded' as Russian
Daniel Sandford reports from the town of Sloviansk, where a Ukrainian armoured vehicle has been "rebranded" with a Russian flag, apparently after being taken over by pro-Russian protesters.
It was apparently making its way to nearby Kramatorsk, which Ukrainian troops have entered a day after an operation began to recapture areas seized by anti-government separatists.
The Ukrainian defence ministry says six armoured personnel carriers were captured by pro-Russian militants.
However, other reports suggest the Ukrainian troops may have abandoned their vehicles or changed sides.
Go to next video: Nato steps up eastern defences