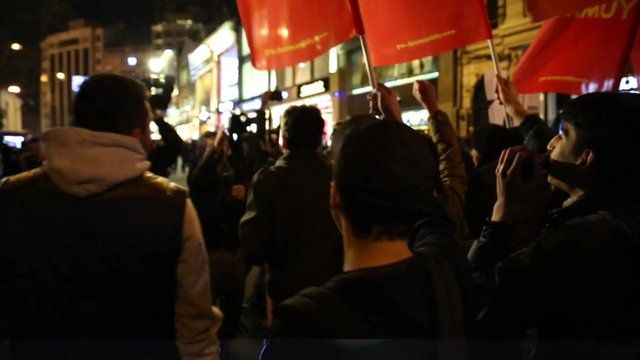 Video
Turkey elections: Inside an anti-government protest march
Turkey is preparing for important local elections on Sunday which are seen as a key test of Prime Minister Recep Tayyip Erdogan's leadership.
The opposition in Istanbul tends to congregate at Taksim Square in the heart of the city.
In May 2013, protestors took the government by surprise by occupying the square and next-door Gezi Park. The police evicted them two weeks later.
Riot police now maintain a permanent presence in the square, in order to prevent protestors from re-taking the area.
But this does not dissuade the demonstrators from making themselves heard.
James Reynolds watched as anti-government protesters attempted to march one evening before the elections.
Go to next video: Turkey moves to block YouTube access