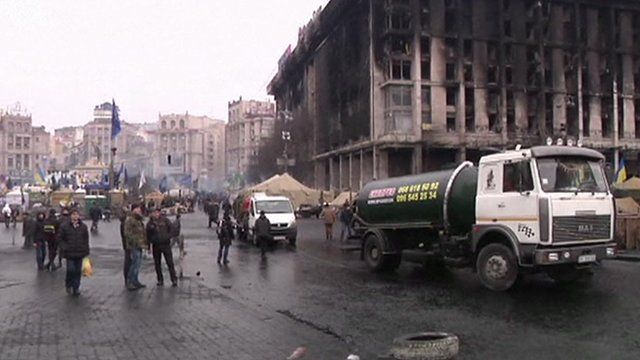 Video
Ukraine crisis: Kiev square 'quieter and calmer'
Ukrainian former Prime Minister Yulia Tymoshenko has urged opposition supporters in Kiev's Independence Square to continue their protests.
Her words came on Saturday evening, after a day that saw President Viktor Yanukovych removed by MPs and fleeing Kiev, but refusing to stand down.
His whereabouts are uncertain, following his travel to Kharkiv in the east of Ukraine on Friday night.
Media reports suggest he was stopped by border police while attempting to fly to Russia aboard a private plane.
Meanwhile in Kiev, the BBC's Duncan Crawford says Independence Square seems "quieter and calmer than at any time in the past month."
Go to next video: Ukraine's historic day of revolution