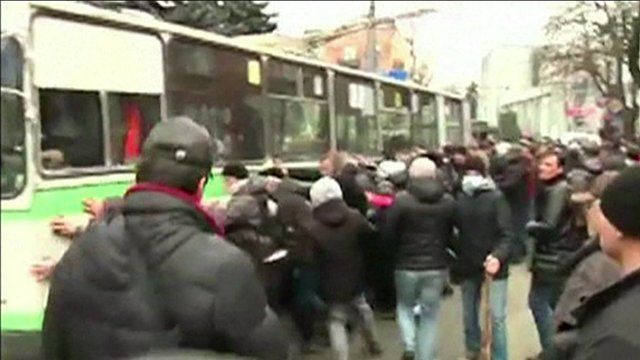 Video
Ukraine clashes: Protesters steal bus for barricade
Europe's leaders are to consider urgent sanctions against Ukraine after the worst violence in months of unrest claimed at least 26 lives.
There were sporadic clashes on Wednesday following Tuesday night's police bid to dislodge protesters from their stronghold in the capital Kiev.
Unrest is also reported outside the capital, with a woman reportedly shot dead during an attempt to storm a building belonging to the security services in Khmelnytsky.
This footage from there shows protesters pushing a bus towards the same building, to use as a barricade.
Go to next video: 'Apocalyptic scenes' in Ukraine's Kiev