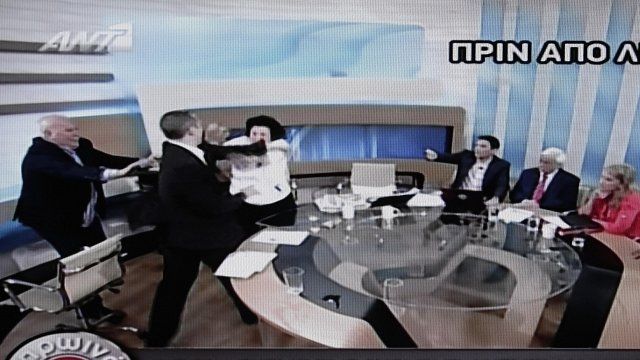 Video
Greek politician's live TV assault
The spokesman for Greece's extremist far-right Golden Dawn party physically assaulted two left-wing deputies on live television during a morning political show.
A public prosecutor ordered his immediate arrest following the incident on Thursday.
Golden Dawn spokesman Ilias Kasidiaris had taken offence at a reference by radical left Syriza party member Rena Dorou to a court case that is pending against him.
He hurled a glass of water across the table over Dorou when she said there was a "crisis of democracy when people who will take the country back 500 years have got into the Greek parliament."
He then turned on prominent Communist Party member Liana Kanelli, hitting her around the face three times.
FULL STORY: Far-right Greek MP in TV assault
Go to next video: Greek MP: 'He boxed my face on TV'