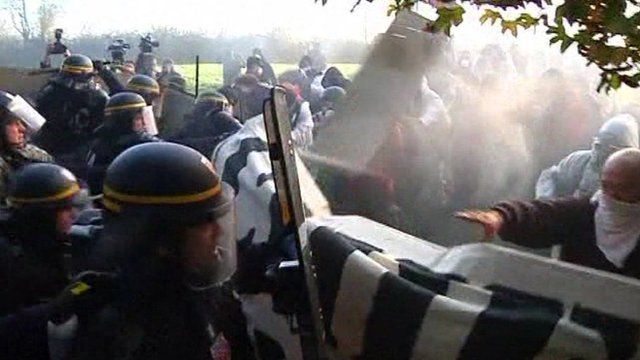 Video
French protesters and police clash over nuclear train
Riot police in France have made 12 arrests while battling protesters trying to stop a trainload of nuclear waste bound for Germany.
They sprayed tear gas and wielded truncheons at protesters in gas masks, who had tried to block railway tracks near Valognes with debris.
A mobile police canteen was set on fire and at least three people were hurt.
The shipment from the French nuclear giant Areva's reprocessing plant at La Hague is the last planned to Germany.
Germany has stopped sending nuclear waste for reprocessing in France, as it winds down its nuclear power plants. Chancellor Angela Merkel said this year that all plants would be shut down by 2022.
Go to next video: Iran hit with fresh sanctions