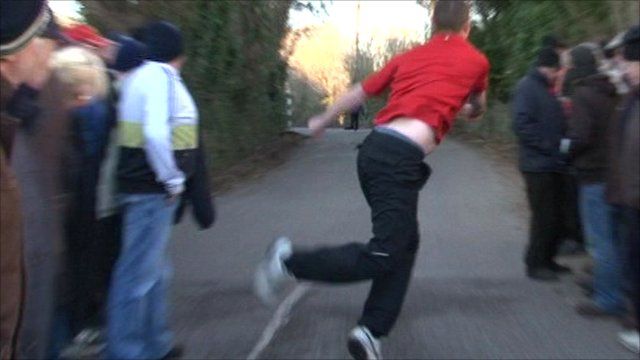 Video
Close-Up: Bowling metal balls down Ireland's roads
This BBC News series focuses on aspects of life in countries and cities around the world. What may seem ordinary and familiar to the people who live there can be surprising to those who do not.
For hundreds of years, hurling a cannonball down a country lane has been an Irish tradition.
To this day, come rain or shine, small tournaments take place between rival local teams.
The idea is to complete a course more than a mile long in as few throws as possible.
The Irish Road Bowling Association is integral to keeping the sport alive by arranging matches and encouraging the younger generation to get involved.
The weekend competitions are big business and thousands of euros are often bet on the adult matches.
James Dagwell went to the village of Shannonvale, West Cork in south-west Ireland, to see how it is done.
Go to next video: Close-Up: Catalonia's human towers