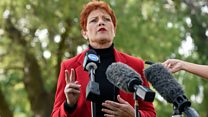 Video
How Australia's One Nation politician Hanson bounced back
Australian politician Pauline Hanson decided not to move to Britain earlier in the decade because it was "overrun with immigrants and refugees", and claimed her home nation was being "swamped by Asians".
She arrived on the political scene 20 years ago, with a hard headed, and some said racist, message about immigration.
Miss Hanson was defeated two years later, but her notoriety kept her in the public eye. She went on to appear on the Australian reality TV shows Celebrity Apprentice and Dancing With The Stars.
The World Tonight's Phil Mercer reports on the re-emergence of her One Nation party, which will have four senators after a general election, and won 9% per cent of the vote in Queensland.
Go to next video: Australian PM calls early election