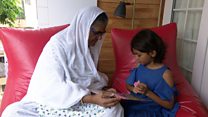 Video
The Bollywood star whose mother struggles to read
Nawazuddin Siddiqui is a successful Bollywood actor, appearing in a string of popular films.
Despite that, his mother, Mehroonisa, is semi-literate... and she's far from alone. More than 70% of Indian women over 60 can't read at all.
What is 100 Women?
BBC 100 Women names 100 influential and inspirational women around the world every year. In 2017, we're challenging them to tackle four of the biggest problems facing women today - the glass ceiling, female illiteracy, harassment in public spaces and sexism in sport.
With your help, they'll be coming up with real-life solutions and we want you to get involved with your ideas. Find us on Facebook, Instagram and Twitter and use #100Women