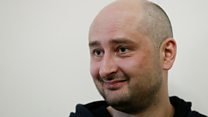 Video
Arkady Babchenko's friend: 'I feel anger and relief in equal measure'
Simon Ostrovsky, a friend of Arkady Babchenko, told BBC Radio 5 live that he feels anger and relief in equal measure after discovering the Russian journalist is alive and well.
Mr. Babchenko turned up at a news conference less than 24 hours after it was reported that he'd been shot dead in Kiev.
Ukraine said it staged the fake murder as part of a sting operation to foil a Russian assassination plot.
Mr. Ostrovsky said: "From being incredibly gloomy and sad yesterday to frankly anger today, that we've all been hoodwinked and made to believe our friend died.
"It's a very confusing time."
This clip is originally from 5 live Drive on 30 May 2018.