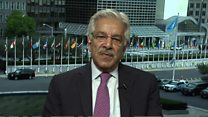 Video
Khawaja Asif: Afghanistan needs 'political solution'
Pakistan's foreign minister Khawaja Asif says the US troop "surge" in Afghanistan "will not make any difference" and that a political solution should be sought.
"They are talking of a surge by 4,000, or 5,000, or 6,000, whatever. That will not make any difference. We propose that there should be a political approach and a political solution to this problem, not a military solution," Mr Asif told Hardtalk.
US Defense Secretary James Mattis recently announced that 3,000 troops would be sent to Afghanistan as the Taliban gain ground and security deteriorates.
Mattis visits Afghanistan as rockets hit Kabul
You can see the interview on Hardtalk on Wednesday 27 September on BBC World News and the BBC News Channel and BBCiPlayer (UK only).