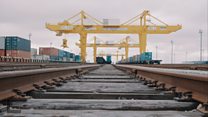 Video
Emerging trade hub could revive ancient Silk Road
In a remote part of Central Asia a new colossal dry port is emerging called the Khorghos Gateway. It has sprung up in the desert between China and Kazakhstan in just seven years.
The Gateway is hoping to become the key point of New Silk Road - global trade way between East and West. For centuries ancient Silk Road was the main trade way connecting China and Europe. Khorgos may revive it and completely change the logistics of exchanging goods between Asia and Europe.
But it isn't just a train station and a few warehouses, they've created a new city - with some developers claiming they're building a "new Dubai".