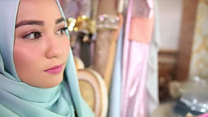 Video
100 Women 2016: Hipster and heavy metal hijabis
The hijab is rising in popularity in the Muslim world. It makes a religious statement but has also become central to women's fashion.
Indonesia is at the forefront of Islamic fashion but that's causing some friction with those who believe the hijab should only protect a woman's modesty.
We hear from a heavy metal guitarist, a businesswoman and an Instagrammer on why they wear hijab. But an actress tells us of her fear that in the near future it might not be a matter of choice.
Produced by: Rebecca Henschke. Camera/edit: Haryo Wirawan and Oki Budhi. Archive photos: Femina magazine
What is 100 women?
BBC 100 Women names 100 influential and inspirational women around the world every year. We create documentaries, features and interviews about their lives, giving more space for stories that put women at the centre.
Other stories you might like:
'I married a man to keep my girlfriend'
Science turns its attention to the female orgasm
Who is on the BBC's 100 Women 2016 list?
---
Go to next video: 100 Women 2016: Why wear a hijab?