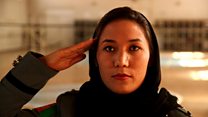 Video
100 Women 2016: On the frontline with the women policing the peace in Afghanistan
Afghanistan is one of the most dangerous places on earth to be a police officer. Between chaotic roads and a growing Taliban insurgency, few places are harder. But, if it is difficult for the men who serve, things are even worse for their female colleagues. As a result, the country has a chronic shortage of women police officers.
Sana Safi travelled to one of the busiest and most dangerous checkpoints in the capital to find out the impact it is having, and what they are trying to do about it.
Video Journalist, Joe Inwood
What is 100 women?
BBC 100 Women names 100 influential and inspirational women around the world every year. We create documentaries, features and interviews about their lives, giving more space for stories that put women at the centre.
Other stories you might like:
'I married a man to keep my girlfriend'
'Adults are so obsessed with children they have no time for important things'
Who is on the BBC's 100 Women 2016 list?
Go to next video: Dying to be a woman in Turkey