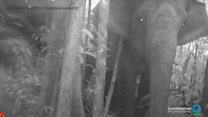 Video
Rare footage of an Asian elephant herd in Cambodia
Rare footage of a herd of wild Asian elephants making their way through Cambodia's largest forest sanctuary has raised hopes for the survival of the endangered species.
The night vision footage, captured in late 2015, show at least 12 elephants moving through the Central Cardamom Protected Forest (CCPF).
It is the largest group of wild Asian elephants filmed there in a decade, says Conservation International, which helps run the forest's conservation programme. It released the footage as it launched a joint trust fund with the government, to raise funds for it.
They were once common in South East Asia but now only exist in small areas as illegal logging and and other practices threaten their habitats.
Pictures courtesy Cambodia HARVEST and Conservation International