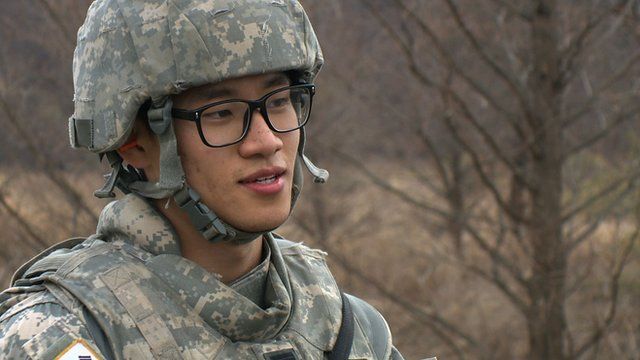 Video
Serving in another country's army
Sgt Lee Dong Hyun is a slight, wiry soldier with legs of steel and a will of iron. He is what is called a Katusa (Korean Augmentation to the United States Army).
In other words, he is a Korean citizen serving his conscription in a unit of the US military in South Korea, a role for which he gets paid $140 (£90) a month, but with all food and accommodation provided.
For fun, he takes part in tough military competitions which involve a severe lack of sleep and hiking long distances through rough territory, often carrying a pack as heavy as a person.
It is tough legs and a determined will that keep him going.
Born in Seoul in 1993, Sgt Lee was taken to the United States by his parents at 14 so he could learn English. After high school, he returned to South Korea where he is now doing his compulsory military service.
But it is partly a means to an end. He has joined an American unit rather than a Korean unit because it keeps his English up to scratch and because ultimately he wants to return to the United States and become a citizen.
Go to next video: Chicken seller who counts her blessings