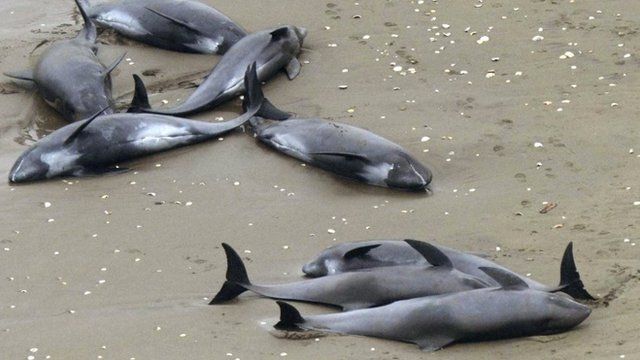 Video
Dolphins stranded on Japan beach
Nearly 150 melon-headed whales, a species of dolphin, have become stranded on a beach in Japan.
They were found along a 4km (2.5 mile) stretch of beach in the Ibaraki prefecture, north-east of Tokyo.
Efforts are under way to try to rescue the animals.
"We see one or two whales washing ashore a year, but this may be the first time we have found over 100 of them on a beach," a coastguard official told the AFP news agency.
About 50 animals of the same species beached themselves in a similar area in 2011.
The reason for the beaching is unclear, but researchers from the National Museum of Nature and Science travelled to the beach to investigate.
Go to next video: Dolphin superpod sight 'spectacular'