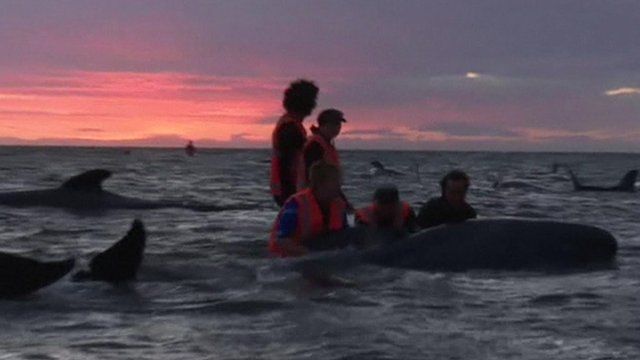 Video
Race against time to save remaining whales after 100 die
Rescuers and volunteers are in a race against time to refloat around 90 pilot whales after more than 100 died on a beach on New Zealand's South Island.
They had managed to refloat the animals in deeper water before the mammals ran aground again. The rescuers are now trying to keep the distressed whales comfortable by pouring water over them.
Conservation officials believe they have one last chance to refloat the whales on the high tide.
If that fails, the mammals may have to be put down.
The incident at Farewell Spit, Golden Bay, is thought to be the biggest beaching incident in the area for 15 years.
Go to next video: Volunteers save beached NZ whales