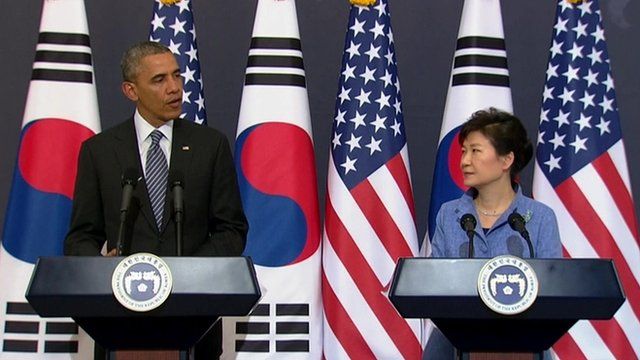 Video
Obama: US 'shoulder to shoulder' with South Korea
President Obama has offered support for South Korea on the second leg of his Asian tour, amid signs that North Korea could be preparing a fourth nuclear test.
Satellite images have shown increased activity close to North Korea's nuclear test site, although the country's intentions remain unclear.
President Obama said provocations would lead to the North's greater isolation and he thanked the South Korean leader, Park Geun-hye, for her commitment to the alliance with Washington.
Mr Obama said: "The US and South Korea stand shoulder to shoulder in the face of Pyongyang's provocations and in our refusal to accept a nuclear North Korea."
Go to next video: Kim Il Sung anniversary divides Koreas