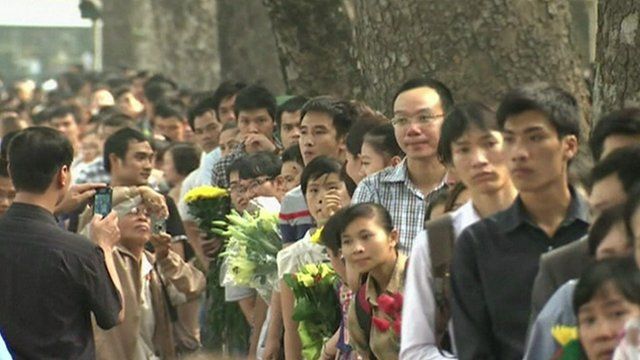 Video
Thousands mourn Vietnam's General Giap in Hanoi
Thousands of people have lined up in front of the Hanoi home of the late General Vo Nguyen Giap to pay their last respects.
Gen Giap, who masterminded victories against France and the US, died on 4 October, aged 102.
The Vietnamese government has announced plans to hold a national funeral for him next weekend, and Vietnamese media report he will be buried in his home province of Quang Binh on Sunday.
Watch scenes at his home as mourners weep, carry flowers and play the violin in tribute to Gen Giap, who was North Vietnam's defence minister at the time of the Tet Offensive against American forces in 1968.
Go to next video: Video obituary of General Giap