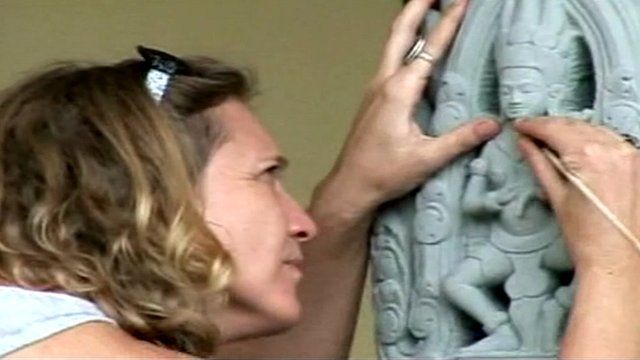 Video
Artists recreate Angkor Wat's lost carvings
A collection of artists including a relative of John Constable have been commissioned to recreate some of the elaborate carvings missing from the temples of Angkor Wat in Cambodia.
They are working to recreate features including Apsara figures which once decorated the roof of the 900-year-old monument.
One of the artists is sculptor Sasha Constable - a member of one of Britain's most famous artistic families - who has been based in Cambodia since 2000 and works as a teacher and curator as well as producing her own work.
She enlisted local sculptor Chhay Saron to join her in researching - and making - the pieces.
Saron has a remarkable story of his own: he is a former soldier and landmine survivor who retrained as a sculptor, and now employs other disabled people in his workshop within the Angkor temple complex.
Video produced by Guy De Launey and Nick Wood
Go to next video: Angkor Wat: Tourism increase fears