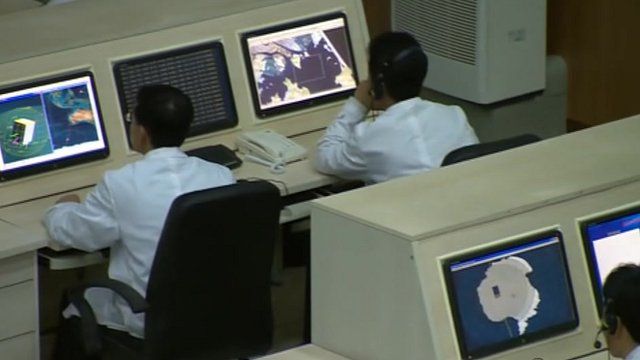 Video
Inside N Korea's mission control as rocket is fuelled
North Korea says it has begun fuelling its rocket ahead of a planned - widely criticised - launch later this week.
Pyonyang claims it is designed to put a satellite in space to commemorate the centenary of the birth of its founding leader, Kim Il-Sung.
But it is being widely seen as a cover for a long-range missile test.
Damian Grammaticas reports.
Read more on Damian Grammaticas' blog
Watch more of Damian Grammaticas' reports form North Korea below.
N Korea 'quiet' as rocket fails
Damian Grammaticas watches the unveiling of giant statues, as news of the rocket failure were ignored
Tour of N Korea's rocket launch site
Damian Grammaticas looks around North Korea's rocket launch site
N Korea's bid to control its image
Damian Grammaticas visits a fruit farm in North Korea
Countdown to the rocket launch
Damian Grammaticas continues his tour of N Korea as the launch nears
Citizens celebrate founding father
Damian Grammaticas watches 100th anniversary celebrations for Kim Il Sung