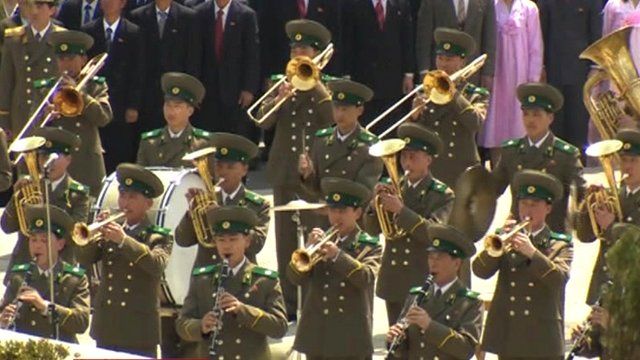 Video
N Korea celebrates founding father
This week North Korea stages the biggest celebration in its history to commemorate the centenary of the birth of its founding father, Kim Il Sung.
The 100th anniversary of his birth will be marked by the launch of a rocket and numerous events across the country.
Damian Grammaticas is the only British broadcaster allowed inside North Korea. He sent this report from Pyongyang.
Read more on Damian Grammaticas' blog
Watch more of Damian Grammaticas' reports form North Korea below.
N Korea 'quiet' as rocket fails
Damian Grammaticas watches the unveiling of giant statues, as news of the rocket failure were ignored
Inside N Korea's mission control
Damian Grammaticas looks inside mission control HQ
Tour of N Korea's rocket launch site
Damian Grammaticas looks around North Korea's rocket launch site
N Korea's bid to control its image
Damian Grammaticas visits a fruit farm in North Korea
Countdown to the rocket launch
Damian Grammaticas continues his tour of N Korea as the launch nears