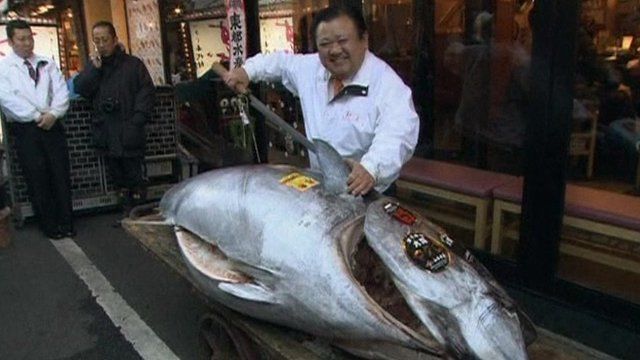 Video
Japan tuna is world's most expensive edible fish
A bluefin tuna has been sold for three quarters of a million dollars in Tokyo - a price almost double last year's record sale.
The bluefin tuna, prized for making the finest sushi, fetched 56.49m yen ($736,000, £472,125) at Tsukiji fish market's first auction of the year.
The winning bidder was Kiyoshi Kimura, owner of a sushi restaurant chain.
Japan is the world's biggest consumer of seafood, eating about 80% of the Atlantic and Pacific bluefins caught.
However, restrictions on catches have been tightened in recent years because of concerns about overfishing.
Go to next video: Supermarket gives away free fish