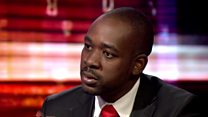 Video
Mnangagwa is 'new face of the old order', says Chamisa
President Emmerson Mnangagwa is not delivering change in the country after the years of Robert Mugabe, a Zimbabwean opposition leader, Nelson Chamisa, has said.
He told Hardtalk's Stephen Sackur: "He has refused to be the face of the new order. In fact, he has chosen to be the new face of the old order."
Mr Mnangagwa became president after Mr Mugabe resigned in November 2017.
Elections are planned to take place later this year.
You can see the Hardtalk interview in full on BBC World News and the BBC News Channel on Friday 11 May 2018 and after on BBC iPlayer (UK only).
Go to next video: Moyo: I will not take an immunity deal