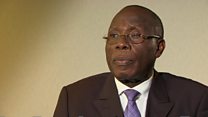 Video
Aid plea for malnourished Nigerian children
Nigeria's Minister of Agriculture Audu Ogbeh is appealing for food aid to help areas of the country hit by the Boko Haram insurgency.
The United Nations has warned that more than 500,000 children in the West African area wracked by Boko Haram are so malnourished that their lives could be in danger unless they get aid.
Speaking to Zeinab Badawi at the World Economic Forum in Davos, Mr Ogbeh said that many children could die if aid does not get to them and he appealed for "as much help as we can get". He said thousands of children were vulnerable as people move back to their homes in newly liberated areas.
Watch the full interview on BBC World News and the BBC News Channel on Wednesday 25 January 2017, or watch again on BBC iPlayer (UK only).
Go to next video: Nigeria's starving children