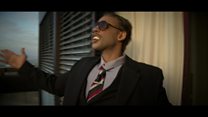 Video
What's Up Africa: Satirist as Fifa's new anti-corruption tsar
As the countdown to the winner of the BBC African footballer of the year begins on Monday, it is a week in which former scandal-hit Fifa president Sepp Blatter's six-year ban from football has been upheld after an appeal to the Court of Arbitration for Sport failed.
It described a payment of more two million Swiss francs ($1.7m; £1.3m) payment Blatter made to ex-Uefa boss Michel Platini as an "undue gift".
So where next for the world football body? The new man in charge, Gianni Infantino, has started to recruit executives to help clean up the organisation's tarnished reputation.
Satirist Ikenna Azuike thinks he has already got the nod.
Go to next video: Is this Africa's new Premier League star?