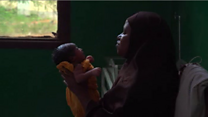 Video
100 Women 2016: Somalia's fight to save childbirth mums
Childbirth is the leading cause of death for women in the war-torn nation of Somalia.
There has been little improvement in the maternal mortality rate over the past few decades and according to Unicef, 732 mothers die for every 100,000 live births.
In one hospital in the capital, Mogadishu, a group of young female surgeons are fighting to save one mother at a time.
The hospital lacks basic resources and staff have not received salaries since April but they are still determined to do what they can to save Somalia's mothers.
What is 100 women?
BBC 100 Women names 100 influential and inspirational women around the world every year. We create documentaries, features and interviews about their lives, giving more space for stories that put women at the centre.
Other stories you might like:
'I married a man to keep my girlfriend'
Science turns its attention to the female orgasm
Who is on the BBC's 100 Women 2016 list?