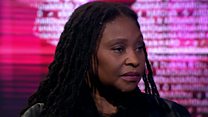 Video
Chaka Chaka: We need young leaders to change status quo
Musician Yvonne Chaka Chaka has said that there needs to be younger leaders in African countries to help shape the future of the continent.
"Africa needs great leaders, and we do have great leaders by the way, we just need the political will and we need young leaders to change the status quo. We need young leaders to shape the Africa they want," she told BBC HARDtalk's Stephen Sackur.
She questioned why the International Monetary Fund (IMF) and the World Bank are being approached for aid money when the continent has mineral wealth and some of the countries' leaders are richer than the places they govern.
Chaka Chaka has been recording and touring for 30 years and is known as the Princess of Africa.
See more clips at HARDtalk's website.
You can see the interview in full on BBC World News and the BBC News Channel on Monday 21 November 2016 and after on BBCiPlayer (UK only).