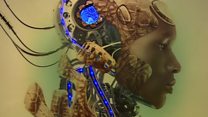 Video
Angolan artist's futuristic 'robots with hearts'
Angolan artist Daniela Ribeiro mixes art and technology in her latest collection at the Gallery of African Art in London to explore her fears about artificial intelligence.
Many of her pieces make use of recycled technological waste like mobile phones and computer parts, epoxy resins, vinyl and PVC.
Ribeiro, who has lived in both Angola and Paris, says she uses her artwork to explores the relationships between the past and present.
Her current exhibition is "an African message for the world, we can't live without humanism, without love", she says.
Go to next video: From African village to architectural heights