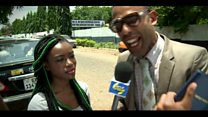 Video
What's Up Africa: Looking for Ghana's atheists
It's time to welcome back our satirical strand - What's Up Africa. In recent weeks the team have been in Ghana where they've been looking at atheism.
You may remember that earlier this year a group of Kenyan atheists said they'd suffered "blatant discrimination" after the authorities refused to register their society.
Their application was turned down because of concerns that registration could affect the "peace... and good order" in the country.
The hashtag WITHOUTGOD went viral - so we sent "Pastor" Ikenna Azuike to investigate the state of atheism in Ghana.
Go to next video: Schools sold for shopping centres?