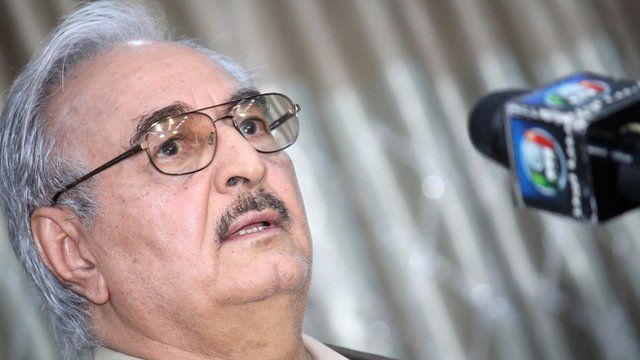 Video
General Khalifa Haftar, the man who could decide Libya's future
General Khalifa Haftar was disowned by Colonel Muammar Gaddafi in the 1980s, which led Haftar to devote the next two decades towards toppling the Libyan leader, while in exile.
Haftar faded into obscurity until February 2014, three years after Gaddafi's downfall, when he outlined on TV his plan to save the nation from Islamist extremism.
In February 2016 his Libyan National Army pushed the Islamist militants out of much of Benghazi.
BBC Monitoring looks at how Haftar has managed to carve out an advantageous position for himself while Libya attempts to rebuild itself.
Produced by Alexi Peristianis; stills courtesy of Getty
BBC Monitoring reports and analyses news from TV, radio, web and print media around the world. You can follow BBC Monitoring on Twitter and Facebook.
Go to next video: The battle to bring stability to Libya