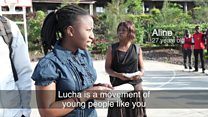 Video
Young and connected: Chapter two
Young and Connected is BBC Africa's first ever WhatsApp series - bringing the story of the rise of youth groups challenging leaders who want to stay in power or who are not accountable.
Chapter Two of the series covers the Lucha movement in the Democratic Republic of Congo's eastern city of Goma, which has been badly hit by years of conflict.
The BBC's Maud Jullien went to meet the activists involve.
Series produced by Vladimir Hernandez and filmed by Maxime Le Hegarat.
To subscribe to the rest of the Whatsapp series, you can add +44 7734778817 to your phone contacts. Send a message to the number saying "SIGN UP" to receive the videos in English, or "SOUSCRIRE" to the same number for the French editions.